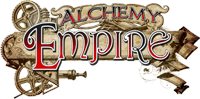 Alchemy 'Steampunk' designs revolve around Ezekiel Empire Rosenstein's, (or 'EER', Victorian 'descendant' to the original, 18th century Dr von Rosenstein), incredible Galvanic Matter Transposition System for 'pronto mass remotion' - the earliest known 'teleporter', or 'three-dimensional fax machine'! Known as the 'GMT', this sensational invention was sadly, completely lost to science. However, from a combination of surviving fragments, anecdotal evidence and recently-found early drawings, Alchemy Gothic have reconstructed several of the Rosenstein GMT's principle elements.

P729
Uncle Albert's Timepiece Choker


P708
Coeur Du Morteur


P707
Static Traction Dagger


P694
Cloud Pilot's Sextant


P671
Septagramic Coercion Gearwheel Key Pendant


P670
Astral Dragon Quadrant Locket


P669
Pinkington's Precision Warp-Dissection Shears Necklace


P663
Holmes-Baker Patent Kinetic Nargile


P662
Spring-heeled Jill


P651
Ventus Traction Farthing


P642
Ingenieurial Elegance


P594
Daedalus Penna Scientia


* Displayed prices exclude VAT (where applicable).
NTS = Not pictured To Scale with other products.